During the past few months I've been busy continuing my research into frugal education as part of our ACES international research project, which has been a very productive time. Our partners have been busy delivering educational activities in a variety of locations amid changing pandemic restrictions across Indonesia, Malaysia, and Vietnam. Their work has been exemplary from day one and continues to inspire my own practice, which I hope will in turn be of benefit to them. I look forward to our monthly team meetings as each one leaves me energised and inspired by the great work being done by all involved, each time informing the next stage of the process. It's a virtuous cycle of co-creation that's a driving force for the project.
I have used these past few months to further explore concepts around sustainability and how they compliment and reinforce my work. Notable areas of focus include systems thinking, doughnut economics, the circular economy, and sustainable development. All of which share characteristics that support the rationale behind each frugal education principle and their respective aspects, whilst providing valuable inspiration for how we might design and deliver frugal education moving forward.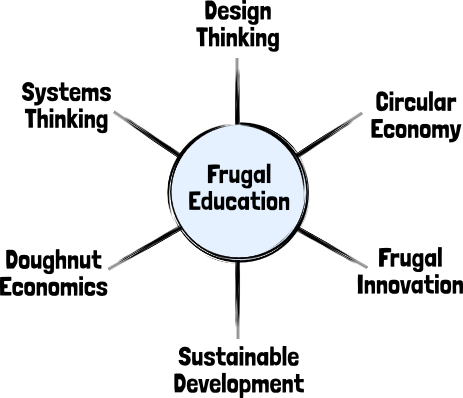 I have updated the main page of the site to provide brief summaries of key processes, frameworks, and principles that inform the concept of frugal education. Each one is accompanied by an easy-to-digest video summary, followed by links for a deeper dive.
I had, for a long while, been struggling to organise my thoughts as a means of focusing my research. This was mainly due to the fact that I've spent the majority of the past few years doing this stuff day in and day out, not necessarily realising and reflecting upon all the lessons I've learnt along the way. I'm only now finding the headspace to properly unpick everything and I'm sure there's still a long way yet to go.
This process of exploration is also been driven partly by our development of frugal and playful aspects that can be mapped against past, present, and future educational activities within the ACES project and beyond. It's been a valuable activity to really focus our intentions for the research and develop useful tools for our partners to leverage when creating their own learning designs.